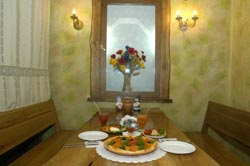 Vladam pizzeria (building 1, 2) and Velyka Lozhka fast-food canteen (building 3) are at the service of the Pilgrim Hotel residents. We provide for you delicious breakfasts which give you energy for the whole day. Breakfasts are included in the hotel accommodation cost.
In Vladam pizzeria one also can:
refresh oneself at the end of the working day,
discuss work issues over a cup of natural black coffee,
organize a corporate lunch or dinner.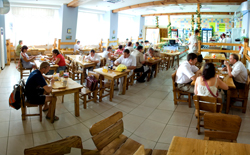 Those who check out receive soft drinks, sandwiches and a blessing for a safe trip.
We can offer the following services:
reservation of railway, autobus and airline tickets;
shoeshine,
a laundry, an interpreter, rent-a-car,
a hairdresser.
There is City-Center trade and recreation center near buildings 1 and 2 of Pilgrim Hotel – the largest center in Nikolaev where you can have a rest after a hard working day.
We do our best to give you a comfortable and adequate rest and home comfort!